Why is my plumbing business losing money? If this question is currently on your mind, we've got the answers for you. Owning a plumbing business can be a rewarding and profitable experience. However, every successful company has ups and downs. Fortunately, if your company is experiencing a few setbacks, you can take several proactive steps to help get things back on the right track.
We've put together this guide to help you identify some typical reasons your plumbing business is losing money and some tips and tricks to turn things around.
Table of Contents
Why Is Your Plumbing Business Losing Money?
If you find yourself facing challenges and your business isn't prospering, there could be a few logical explanations behind your problems. Here are the top five reasons your plumbing business could be losing money.
1. Losing Employees
High turnover can be costly, so if you find yourself losing staff, step back and consider why. Plumbing can be a risky profession because of the equipment and expertise involved. Some elements could expose you and your employees to potential injuries or sickness. If an employee gets hurt on the job, you may need to pay for their treatment or payroll while they are out of work. You might also need to hire a replacement, costing you even more money in the long run.
If you find yourself needing to recruit and train new employees more often, you'll lose the extra time needed to focus on your appointments and promote your business, resulting in your company failing to earn much profit.
2. Bypassing Energy-Saving Solutions
Many homeowners are environmentally aware and appreciate eco-friendly home solutions that will help them save money on utilities and positively impact Mother Nature. If your business isn't focusing on green solutions or technology, you could be losing potential customers.
You can address several plumbing issues with energy-efficient solutions that use less water and power. You should stay up to date with the latest technology and provide the best solutions for your customers. Bypassing these green solutions could be another reason your company is struggling to succeed.
3. Suffering From Equipment or Property Damages
Improperly stored tools and equipment can result in loss or damages, resulting in the need to replace them more often. If you aren't securely storing and organizing your equipment, you could damage its longevity, decreasing your profit. You might also miss out on potential appointments if you don't have the correct tools to get the job done.
If you don't have any plumbing business insurance, you could lose money from property damages. You never know when an accident might occur, and property damages could hurt your reputation and your financial bottom line.
4. Ignoring the Competition
Learning from your competition is the best way to pull ahead of them. If you ignore your local competitors, they might take you by surprise and start stealing your customers. It's crucial to monitor their marketing strategies, websites and services to see how your business compares. If your business isn't measuring up, it's vital to take the necessary steps to stand out from the pack. Missing out on completing this crucial business tactic could result in losing potential customers and cause your business to take a turn for the worse.
5. Overloading Appointments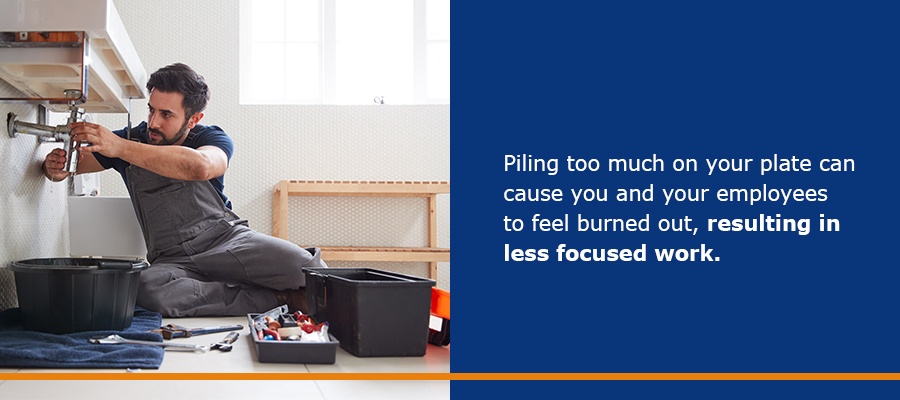 Many plumbing business owners are guilty of overloading their schedule with too many appointments and jobs for their team to handle reasonably. While this may seem like the best way to earn the most money, that isn't always the case. Piling too much on your plate can cause you and your employees to feel burned out, resulting in less focused work.
When you're suffering from work burnout, you don't usually have the energy to devote 100% of your focus to your tasks, and your customers could notice. Trying to juggle too much at once is the recipe for subpar work that doesn't impress your clients and could cost you money in the long run.
Tips for Turning Your Plumbing Business Around
Luckily, if your business is experiencing some setbacks, you can take a few steps to get out of your slump. Here are our top tips for turning your plumbing business around.
Maximize Your Knowledge
One of the best ways to stay ahead of your competition is to maximize your knowledge and stay abreast of innovations in the plumbing industry. Research your competition to analyze their marketing strategies and services and identify where your business is falling short. Once you understand your shortcomings, you can address and use them to kick-start your marketing strategy to stand out from the competition.
You will also want to keep up with the latest developments in technology and equipment. Using the best energy-saving solutions and completing your jobs with top-notch equipment and tools can help your customers save money and time. Maximizing your plumbing industry knowledge is essential to earning new clients and keeping your current ones coming back for more.
Set Fair Prices for Your Services
You may think offering the lowest prices in the area will win you favor with the locals, but this isn't usually the case. Many savvy property owners instinctively associate lower prices with inferior quality, so this strategy could cause you to miss out on potential customers. Strive to set rates that reflect the work and services you perform. Reasonable pricing signals to your clientele that you take pride in your work and your ability to resolve their plumbing issues.
Make a Plan With a Business Coach or Consultant
If you're struggling to figure out where to start, an experienced business coach can help you create a business plan to turn your company around and get back on the right track. A dedicated business coach will listen to your goals and struggles and advise you on how you can move your company forward. They can also help you solidify your business strategies and provide guidance to help propel your business to new heights.
Turn to Coachfirm to Get Your Plumbing Company Back on the Right Track
At Coachfirm, we understand the struggles many plumbing business owners face. That's why we provide a listening ear to discuss your ups and downs with someone who appreciates what you are going through. We offer business consulting and coaching services to help you achieve your business goals and build a successful company.
Contact us today or fill out our business assessment questionnaire to start getting your plumbing business back on the right track.