'Get Unstuck Right Now' Book
Don't become a victim of the Great American Business Lie. Discover the real reason most small companies struggle and how to break free of frustration. Author and Business Coach, Bob Scott, explores why the American Dream is so elusive and how the freedom and lifestyle that dream promised too often becomes endless work, routine and pain.
The facts are:
Most small businesses stop growing and crystallize
Most entrepreneurial companies run out of cash and implode
Bob introduces his business 4.0 theory (the Hybrid Model) and takes you through a step-by-step process to get your business 'unstuck', refocused and on the fast track to providing the life you demand.
The new point of view empowers the entrepreneur to reflect on the real reasons they went into business and creates a roadmap that serves as a guide to ultimate success. Buy today for $20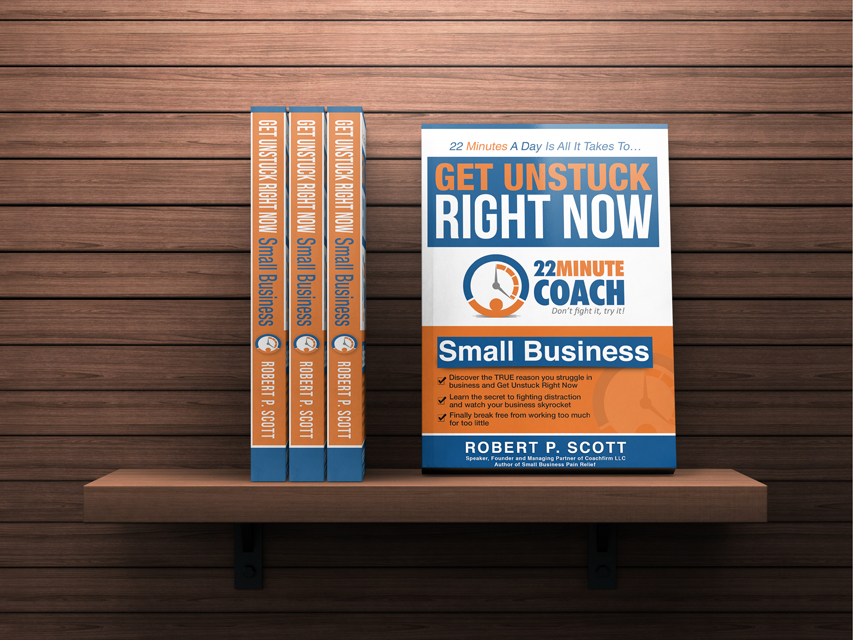 'Small Business Pain Relief' Book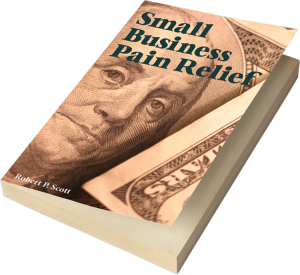 There are hundreds of books written on business theory. 'Small Business Pain Relief' by Robert Scott, is not one of them. This book is a step-by-step guide to transforming your company from where ever it is today to extraordinary and beyond. Each section was developed from actual experiences, frustrations, and the pain associated with building independent small businesses.
Is your company losing money periodically or every month?
Are you stuck in a business with no freedom and too little reward?
If you're a family business – are you constantly dealing with family stress?
Do you miss the drive and passion that consumed you when you started your business?
Did you wake up today and wonder what happened to the last five years of your life?
The book, broken down into four sections, consists of:
Crisis Management
Typical Business
Extraordinary Business
Beyond Business
Each of these business stages faces its own challenges and dangers. The combined insight can transform your company and help guide you to becoming a member of the 1% of owners who truly operate free of fear! The universe does not care if your business lives or dies. Fate doesn't control the destiny of your business, you do! You must not only trust in yourself but also commit to doing what is necessary to win.
Discover those secrets to winning! Buy today for $20.
'Get Unstuck Right Now' Program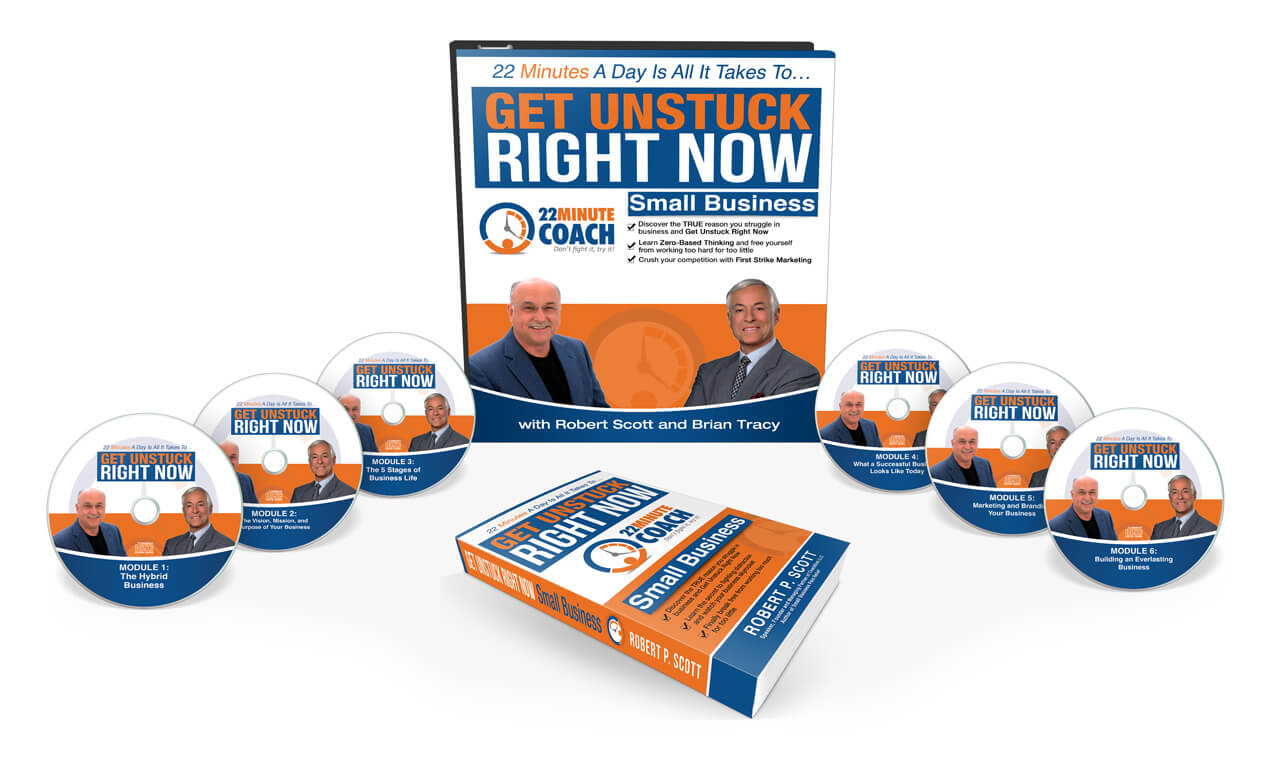 Attention Frustrated Business Owners….
Discover the real reason you struggle in Business and the lie that has trapped you in pain all these years! Before you decide to spend more money trying to ramp up sales or give up and downsize your business because it's just too hard, you need to read this. It's not you – you're just a victim of the Great American Small Business Lie!
Dear fellow Business Owner,
If you want to grow sales, increase profits, differentiate yourself in the marketplace and enjoy more life, this might be the most important information you'll ever read. After ten years of research, I have discovered the truth behind the Great American Small Business Lie that has been holding you, prisoner, to never-ending repetitive work.
Join world-renown speaker and author Brian Tracy, who has consulted for more than 1000 companies in 55 countries around the world, and Robert Scott, veteran Business Coach, Founder of CoachFirm and author of 'Small Business Pain Relief' and the 'Small Business Success System' as they share with you key components of what a Successful Business looks like today and how to become one!
Buy today for $247
Let me share with you WHAT the Small Business Lie is and WHY it has trapped your business and so many others, in a world of hard work and frustration. The lie is simply this: we were taught that there are two kinds of businesses, Big and Small, and if your small company works really, really hard someday it can be a big business. The truth is if you work really, really hard then someday you will be old, tired, frustrated, or out of business.
The statistics tell the story. Close to 90% of employer companies never see their tenth year and if they do it's usually on the back and hard work of the exhausted and overly cynical owner.
If you study two people in the same industry, one is rich and the other is barely getting through the day – WHY? As a Business Coach I have spent ten years researching why companies in the same industry have such different financial results. Some are constantly broke and struggling while others are successful, wealthy and happy without any measurable difference in skill. All of my experience and all of my research have led me to one conclusion – and it can transform your life and business!
"I hired Bob as a couch a couple of years before the recession. At first it was to work with me to create a plan for the family and growth issues we were facing. Right away he went to work increasing sales and profits by working directly with me and my team. Did his ideas work? At the height of the recession we were in good enough shape to move to a new 90,000 square foot manufacturing facility in New Jersey, purchase needed equipment and open up new markets. Now 5 years later we have paid off the equipment loans and are poised for the best sales and profit year ever."

– Michael Sklar, Manhattan Door Corporation
I decided to combine all my knowledge and research together, with world-renowned speaker and business trainer, Brian Tracy, to create a single, affordable and simple-to-use product that will explain the reasons behind all the small business pain you have been experiencing, The Great American Small Business Lie and arm you with new ideas to transform your experience of Business Ownership forever.
You'll get all the tips and techniques to transform your business when you invest in 'GET UNSTUCK RIGHT NOW: SMALL BUSINESS'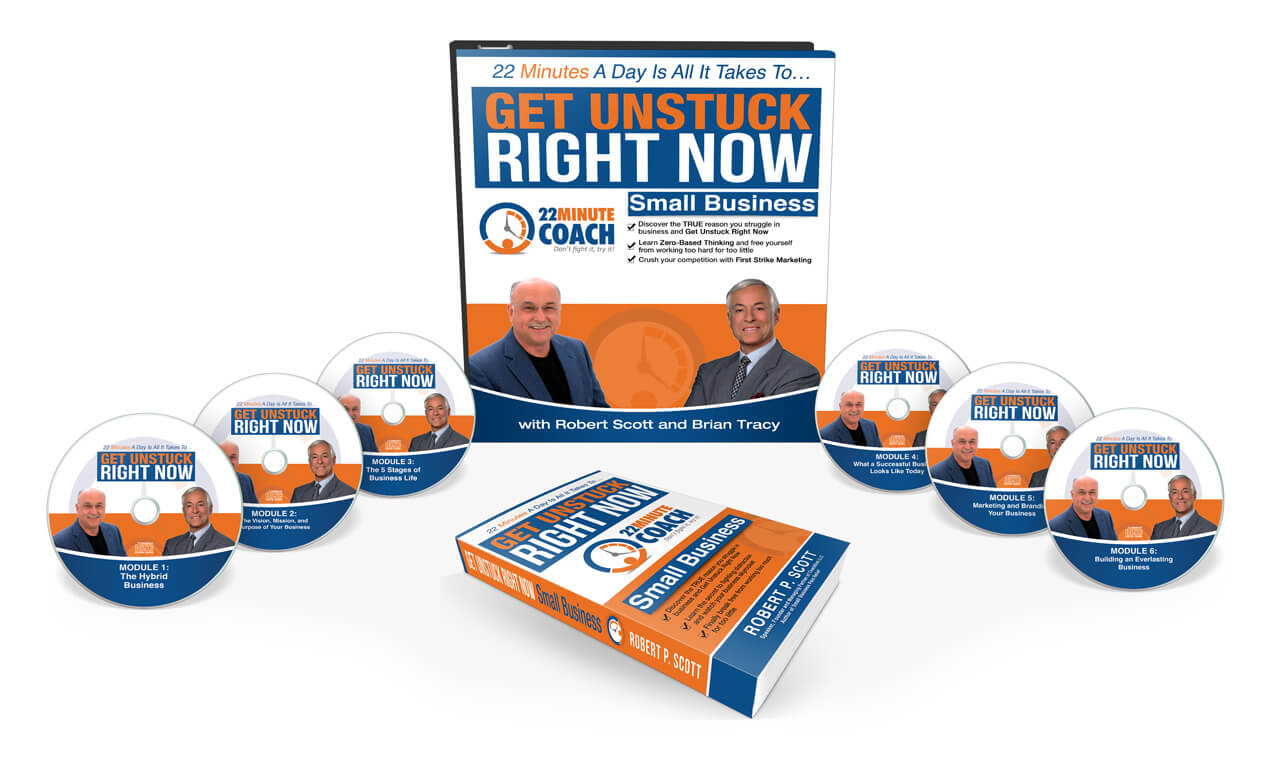 Get Unstuck Right Now is a simple to use program that explains the problems struggling small business owners face and takes you step by step through a process for real change in your company.
22 Minutes a day for 22 days to see real impact and Get Unstuck Right Now – Don't fight it, try it!
Why 22 minutes? : We are all busy and overwhelmed but can find 22 minutes a day for Business Development.
Why 22 Days? : The reason is simple. Information doesn't change behavior! If it did, we would all have perfect lives, perfect marriages, perfect health, relationships, businesses, etc. Reading, doing the work and reflecting about your business for 22 minutes each day for 22 days will create new habits and give you a different pathway to win the game of Business and Life!
Why should you consider this today?
We have 2 bonuses for a limited time!
Fast Action Bonus #1:
When you invest in the system you will receive the new "Get Unstuck Right Now" Book. Each chapter designed to introduce a new skill and idea into your business. Collectively if you focus on one short chapter a day your habits and thinking begin to shift and new opportunities become obvious.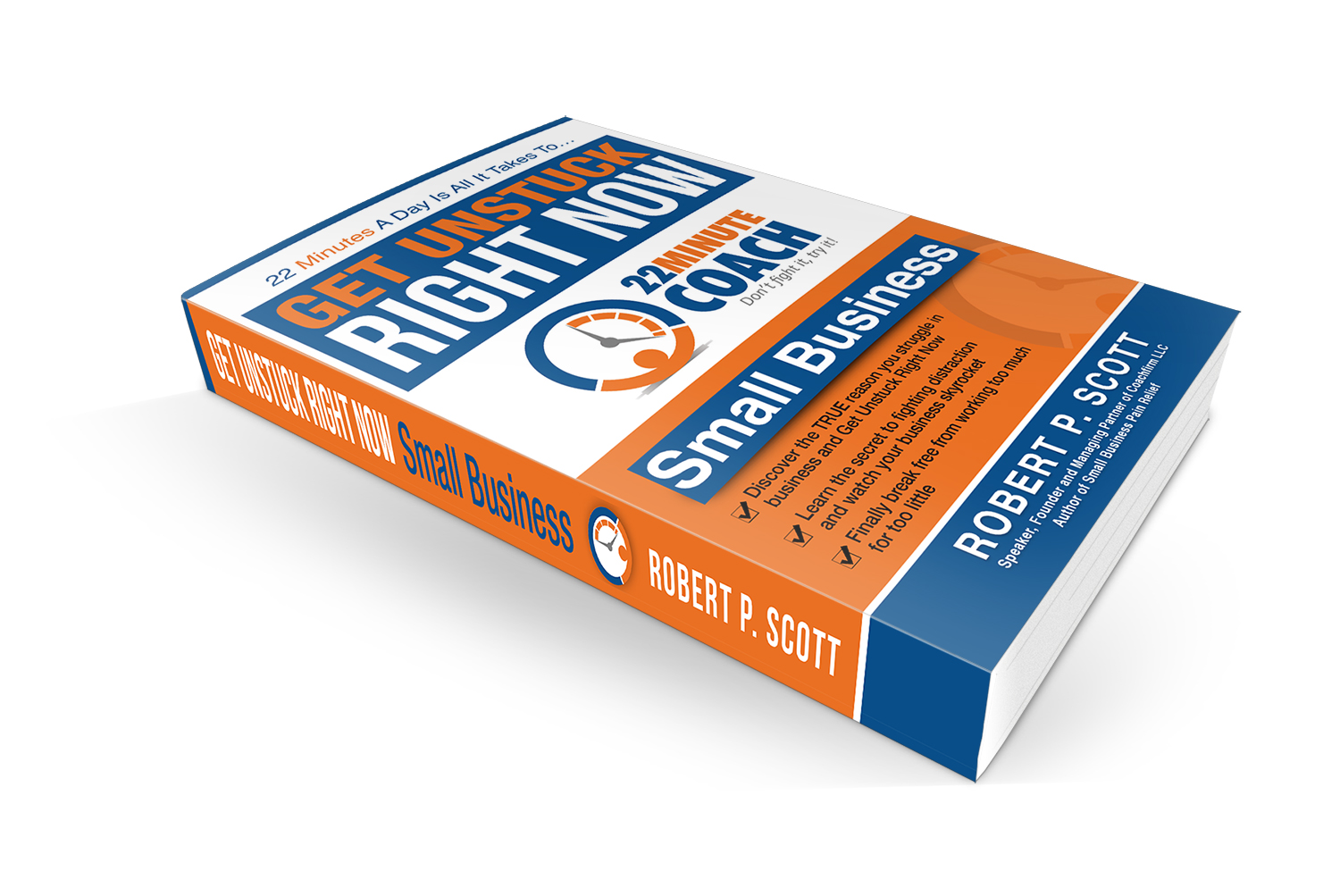 "After sixteen years of business my partner and I thought we understood our company, our market and ourselves. It took Bob's strategy to show us how much we didn't know and how much we are certain about now!"

– Robert Marsh – Idjnow
Which of these powerful elements could you use to improve your company right now?
The solution to the Great American Small business Lie
Examples of successful Hybrid models
Roadmap to the perfect business and the life you desire
Plan to solve people issues before they begin
First Strike Marketing to exponentially grow sales
How to defeat Fear and Worry
Understanding you and your team's management style
Always making the right decisions with Zero-Based Thinking
How to set and achieve goals in your business and your life
The foolproof 20 idea method of strategic thinking
Techniques to sell anything in an Experienced based world
Branding your business and becoming unstoppable
Strategies to build an everlasting business
Okay, so what's the investment for breaking free of Small Business Pain forever?
There are many business owners who spend hundreds of thousands of dollars trying to increase sales and profits while getting nowhere. Not to mention the countless hours of time wasted banging your head against the wall. But I'm not going to charge you anywhere near that amount for the Get Unstuck Right Now: Small Business Program. You can get everything you need to break free of the Great American Small Business Lie, build your sales, improve your Management team, design a lifestyle you always wanted while enjoying all the benefits of less worry and renewed energy.
Buy today for $247
$247 is a drop in the bucket compared to the money you're going to waste on the unsuccessful hiring of unknown sales trainees, business consultants or trying to discover what it took me ten years to understand on your own. Believe me I wish I had the Get Unstuck – Right Now system when I was running my first companies it would have saved me hours of frustrating trial and error, not to mention the money.
So what's the catch? Why am I practically giving this resource away?
It's really quite simple; I want to give those small business owners who are open to the concept, an opportunity to break free. This lie has kept so many of us working too hard for too little and in the end (when it's too late) realizing that we might have been better off with a Government Job than our own business.
I know you're skeptical about dramatic change, and finding a renewed determination to design a life and business that works, this is why I am taking all the risk!
That's why I am offering a Love It or Leave It Guarantee!
If at the end of the 30 days you are not happy with the Get Unstuck Right Now program return it for a full refund and keep the bonus book as our gift no questions asked!
Wouldn't you agree that's fair?
I wouldn't have spent the time and effort creating the Get Unstuck Right Now: Small Business program if I had any doubt at all. You're going to love it! You really can't afford NOT to invest in the Get Unstuck Right Now System!
You have two choices:
You can either keep doing the same thing and hope something new happens (the definition of insanity) or you can take action RIGHT NOW to change your business and your life. The choice is yours.
Fast Action Bonus #2:
A free one-on-one 30-minute tune-up consultation with me after you have read the Get Unstuck Right Now book , listened to the Get Unstuck Right Now program and begun the process of implementing change in your business. During this coaching session we will create your perfect vision, identify friction points that may be holding your company back and re-energize you with information and new determination to win.
Obviously my time is limited and I can't predict the response so I reserve the right to place you on a waiting list, take action now and reserve your spot!
So, what's stopping you from making a good decision Right Now? Don't fight it, try it!