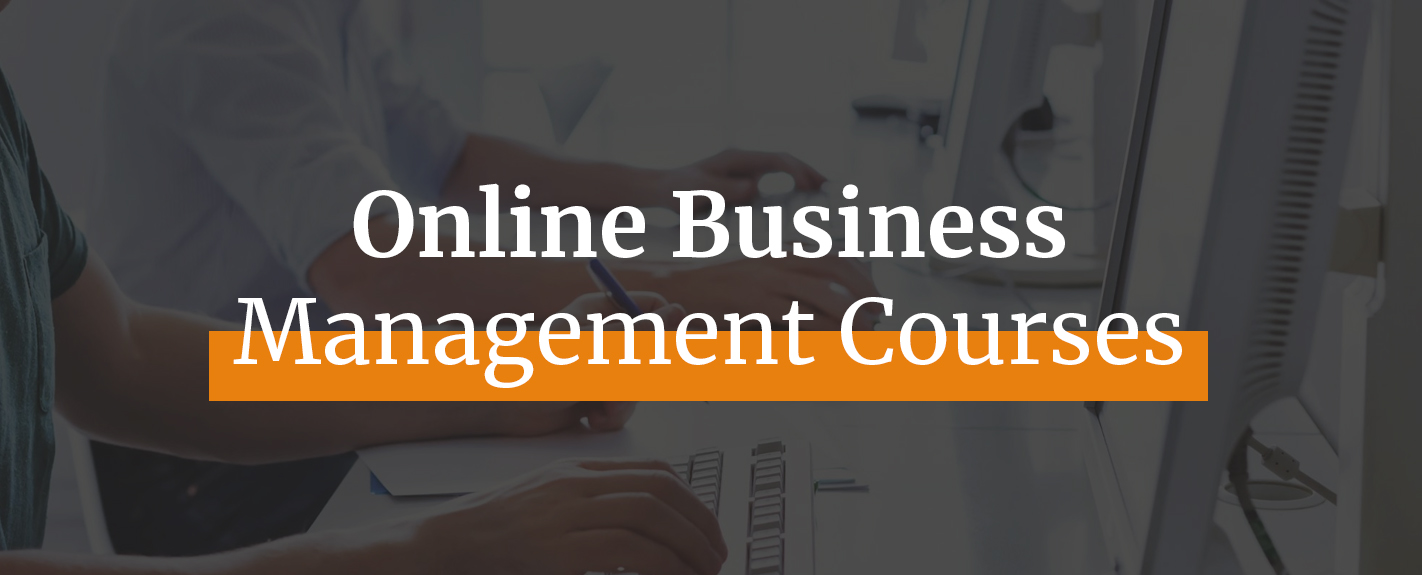 Taking the leap to start a business is often one of the bravest, riskiest and most difficult decisions a person will make in their lives. It usually involves quitting your job before you know your little company will pay the bills, as well as putting in countless unpaid hours just to prepare for launching. However, many times, the choice to stop working for someone else and start going after a dream also ends up being one of the best decisions a person will make in their lives.
But unfortunately, most aspiring entrepreneurs will not see success right off the bat. This isn't to say they're doing something wrong — rather, they may be right on the brink of something great, and only need to change a few aspects of their business model in order to flourish. When you know you have a good idea but your business doesn't pull in the profit you think it's capable of, online business management courses can help you adapt your strategy so your company can reach its full potential.
What Is the Bizpods Online Business Coaching Program?
If anyone tries to sell you a "quick fix" or "one-size-fits-all" approach to business management, they're not trying to help you ⁠— they're trying to sell you. Every company is unique and has its own challenges to overcome. So, online business coaching services must be thorough, customizable and specific to a range of companies in order to be effective.
The Bizpods® online business courses from Coachfirm will teach business owners several actionable entrepreneurial concepts that can help them truly revolutionize the way they run their companies.
Bizpods is not a business school ⁠— instead, it's designed based on real-world experiences to serve real-world purposes. You'll hear from seasoned business owners, consultants and entrepreneurs who have experienced virtually everything there is to see in the world of business. They'll provide useful advice for the issues you currently face, as well as solutions for problems you'll likely have in the future.
More than 80% of businesses fail within the first 10 years of their operation. New businesses and established corporations alike can benefit from this online educational and training program to resolve current issues quickly and prevent future roadblocks from occurring. Bizpods focuses on several key aspects to help business owners build a systematic company with efficient processes and policies.
Bizpods is a specific, action-oriented online business management program for small business owners who want to learn how to:
Position themselves as capable, trustworthy leaders.
Set and achieve smart personal and business goals.
Address pain points within your business.
Comprehend financial documents and reports.
Organize all aspects of your business model.
Hire a management team whose goals and values align with yours.
Establish an effective project management process.
Develop and follow a marketing plan to drive sales, boost profits and solve money stress for good.
Motivate employees and reduce staff-related issues.
Analyze the performance of your company.
Plan for the future.
Enjoy life!
What Does the Bizpods Online Mentorship Program Cover?
As we talked about above, there is no "quick fix" to business management. Running a small business and potentially starting it from the ground up is a challenging feat, and — not to be grim — most people will fail. For these reasons, any effective online business development course will have to cover many diverse topics in order to apply to most businesses.
The Bizpods business mentorship and entrepreneurship program is made up of three tracks, each of which includes 15 courses. Each module is unique in terms of both topic and presentation style but includes the same seven sections:
Coaching video (courses 1 through 25)
Concept
Rapid lesson
Key points
Roadblocks
Action plan
Worksheets with audio introduction
The three tracks you'll work through are called Discover, Design and Deliver.
The first Bizpods track, Discover, focuses on the key conceptual components of creating a business model that works. The beginning stages of a business are often the most important, as you can't scale a company that doesn't have a solid foundation. Learn the basics of working with people, marketing a product or service, making your company stand out, developing fair and profitable pricing, and finding balance as a business owner. This track will also discuss tips for employee management and developing lasting relationships.
To complete the Discover track, you'll take the following 15 courses:
Business Assessment
About Your Vision
The Snowman Effect
Friction Points
Your Critical Numbers
Finding Balance: The S.O.M.E. Method
Leadership
Timed Results, Not Time Management
Marketing Basics
Defining Management
Understanding Employee Motivation
Nice Guy Syndrome
Pricing
Surviving Change
Designing A Life
The second step of successful business management involves designing a company that can function and flourish without you, the business owner, needing to be there — or needing to put in a significant amount of working hours each week to ensure the business operates at its full potential. For many entrepreneurs, the end goal is to eventually run several successful companies without having to play a very active role in any of the day-to-day processes. To achieve that, you'll learn in-depth skills like hiring the right management team, controlling your costs, targeting your ideal customers, making large-scale financial decisions and delegating project management and other hands-on tasks.
The 15 courses included in the Bizpods Design track are:
Raising The Flag
Focused Marketing
Cost Control
Managing Goals & Projects
Attracting Quality Employees
Building The Organizational Chart
System Building & System Sabotage
Avoiding Financial Traps
The Company Manual
Position Agreements
Marketing vs. Selling
The Accountants View
Internet & Social Media
Designing Your Management Team
The Experience-Driven Customer
The Deliver track of the Bizpods online business management program is really the cherry on top of an information-packed ice cream sundae. Once you have the tools and knowledge to develop and design an effective business, you need to know how it will best survive over the long-term — even after you're not in the picture anymore. The Deliver track is all about how to ensure your business will continue to flourish no matter who's in charge or how much time passes since its founding. You'll learn skills like future planning, experience mapping, choosing leadership figures, having foresight and other strategies to develop long-term plans for success.
Whether your end goal is to sell your company or to continue scaling upward to make it larger and more profitable, the courses in the Deliver track will help you answer the lingering question on every entrepreneur's mind: "Now what?"
The third and final Bizpods track will include these 15 modules:
The Mat Moments
The Hybrid Business
The Lifetime Value of a Customer
Accountability Partners
Personal Health & Balance
The Power of Foresight
Emotional Commitment
Experience Mapping
Planning for Growth & Change
Scale Your Business
The Wisdom of Machiavelli
Who Should be President?
Building Your Cow
Business Valuation
Leaving a Legacy
Who Are the Online Business Development Courses Tailored Toward?
Bizpods is designed to be a concise, hard-hitting and time-efficient course for business owners and consultants who need to learn a large amount of information in a short amount of time. By taking business administration courses online, CEOs and business owners can complete their training whether they're in the office, at home or out at a local coffee shop waiting for a meeting with a client.
Online business courses for entrepreneurs also allow people to work at their own pace to complete each lesson, so they can take their time and get through the program as their schedule allows. The Bizpods online business coaching courses follow such a flexible schedule that even the busiest entrepreneurs can find the time to work through the training.
However, since each Bizpod builds on the lesson that came before it, it's crucial for people taking the course to pay attention to each module, take notes and really digest the information discussed. So, this online consulting platform is best for self-starters who can stay motivated and focused on completing a task ⁠— which shouldn't be a problem for anyone with a true entrepreneurial spirit!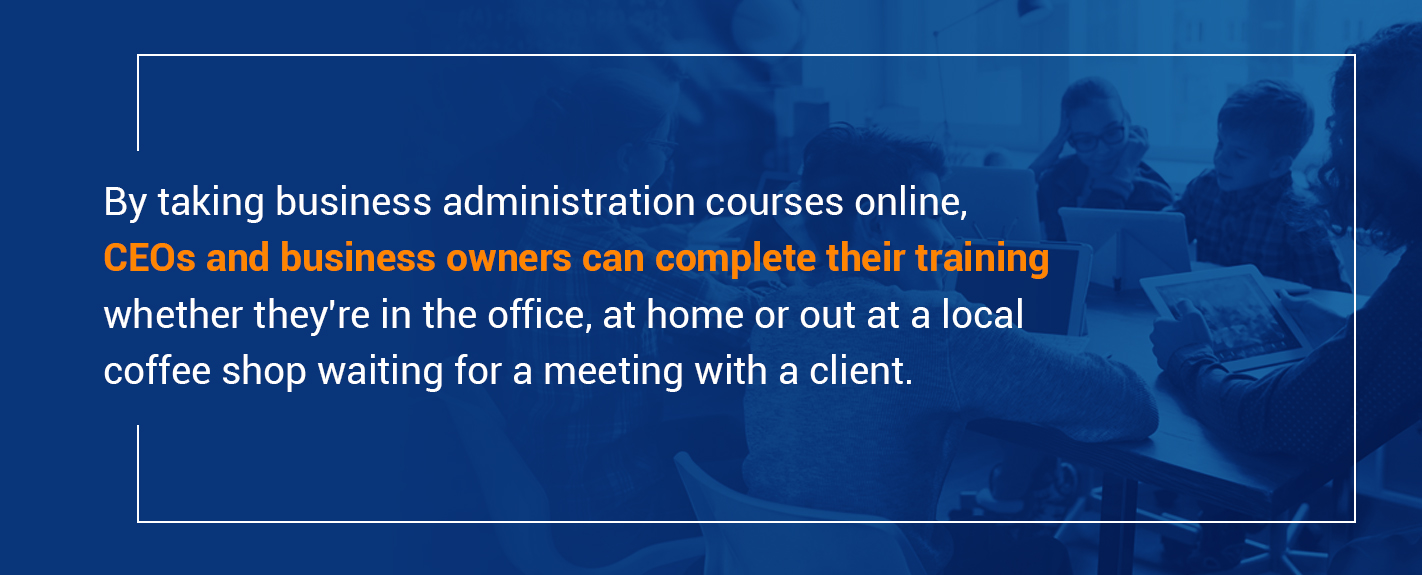 How Long Does the Bizpods Online Business Consulting Program Take?
One of the best advantages of taking a small business management course online is that the timeline is usually at least somewhat flexible. This allows even bustling business owners with jam-packed schedules to fit in some time to work through the courses.
Bizpods is designed in a way that offers some structure in addition to the flexibility of completing the coursework from anywhere with an internet connection. A new module is delivered to the students every two days, and they must complete each one for proper understanding. In theory, this means it would take about 100 days to complete the course in its entirety — or about 15 weeks. With Bizpods, business owners can gain the confidence and knowledge they need to transform their companies in under four months.
What Can I Expect to Receive by the End of the Online Business Training Courses?
Once you make the decision that you need some help to change the way you run your business, you want to invest in advice, experience and information that you'll use. You'll get all this and more from the Bizpods program. Whether you need to create an updated online business model or want help revamping your brick-and-mortar store, this program will give you the push you need to make real changes.
Some of the key takeaways you'll gain after completing Bizpods courses are:
Knowledge: With courses on 45 different topics, you'll come out of Bizpods with tons of actionable information you can apply directly to your business goals. You'll hear from entrepreneurs with specialization and expertise in project management, business finances, human resources, customer relationships and more.
Confidence: With knowledge, comes confidence! Now that you have the information and tools to begin to transform your business, you'll feel more confident as you make large-scale changes, establish your goals and interact with your staff and clients.
Awareness: More than likely, your business plan has some room for improvement that you might not have noticed on your own. By completing the inclusive Bizpods program, you will gain even more insight into ways you can adjust your company's processes and policies to serve your goals better. For example, if you only take one course on business finances, you might never learn about the changes you should make to your customer service strategy. Working through all the Bizpods modules ensures you cover all your bases in terms of business management solutions.
Motivation: It can be difficult to find the motivation to continue working through a long-term online course, especially for busy entrepreneurs who hardly get a second to themselves. By enrolling in the entire Bizpods program, it's easier to keep yourself motivated to stay on track. You'll also get access to a private, members-only Facebook group that Bizpods creator Bob Scott and other senior team leaders moderate. It's amazing how motivating it can be to engage with other business owners who face the same roadblocks as you.
Accountability: Since a new Bizpods module is delivered every two days, you'll have to hold yourself accountable to stay on track and complete the entire program in a timely manner. Letting too much time pass before completing the next module will likely hinder both your comprehension of the material and your motivation to apply what you learned by making actual changes to your business model. You can even upgrade to the Bizpods Coaching Program if you need a little help with holding yourself accountable. Choose between a group coaching model or a one-on-one intensive coaching plan — the one-on-one program will include two virtual monthly meetings with either Bob Scott himself or a certified independent team leader who has completed the Bizpods Team Leader training program. Either coaching program will add an extra layer of accountability to the Bizpods model.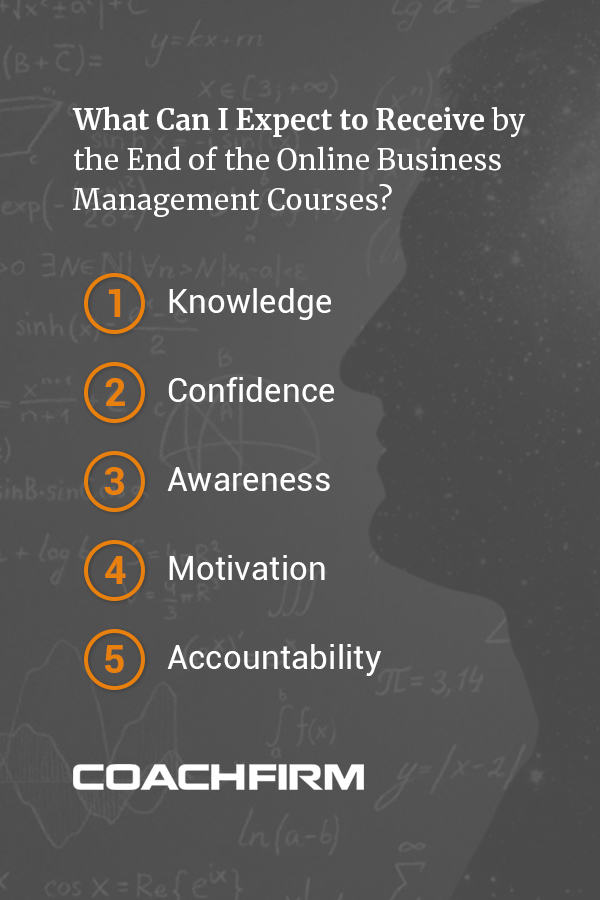 How Much Is the Bizpods Online Business Training Program?
One of the greatest benefits of online business mentoring programs is the affordability compared to hiring a full-time business coach.
The total cost for all three Bizpods tracks and the 45 modules within them is $997. That's an average price of $22 per course! Meanwhile, the average cost to hire a personal business coach either online or in-person averages $400+ per hour. Bizpods is an affordable solution for business owners who don't want to spend a fortune on corporate coaching programs.
How Do I Get Started With Online Business Consulting Courses?
If you're ready to start taking business coaching courses online, the Bizpods program offers the perfect balance between flexibility and structure. Led by Bizpods creator and partner and founding member of Coachfirm, this online mentoring platform will give business owners the tools, knowledge and motivation to change the way they run their companies for the better.
Remember, you can't just take the course to transform your company — you have to also do the work to make change happen. Bizpods is designed to give you the tools you need to succeed. All you have to do is apply them.
Contact the team at Coachfirm to learn more about our proprietary Bizpods program, or sign up today to get started.