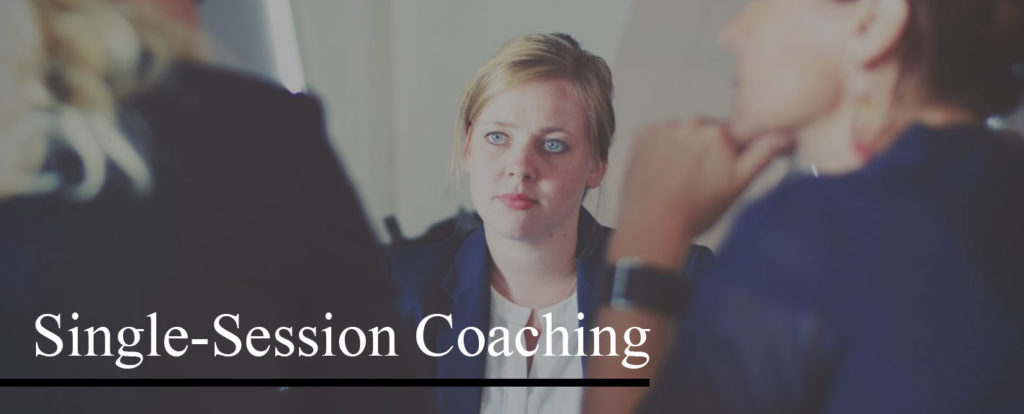 Running your own business can be a tremendously demanding — and often solitary — endeavor. Even if you possess the most innovative ideas and business savvy, challenges will inevitably arise. If you're a business owner facing strained partnerships or a dwindling bottom line, the value of a fresh outside perspective can't be overstated. Single-session business coaching offers the personalized guidance and expert advice you need to turn your business's struggles into a success story.
Coachfirm's single-session coaching provides a space to define your vision, challenge your assumptions and explore new ways of thinking. Our expert coaches will help you identify your goals — and understand what's standing in the way. Together, we can see your business reach its highest potential.
What Is a Business Coaching Session?
Business coaching involves a highly experienced coach and a business owner who needs guidance in reaching their goals. Business coaches can offer advice tailored to your specific needs — something far more valuable than the generic guidance you'll find with an internet search.
At Coachfirm, our coaches are qualified entrepreneurs with years of real-world business experience. We know what it takes to become a successful business — and we'll help you apply these strategies to polish your endeavor. Even a single session of business coaching can help you revive your company and bring it to the next level.
What to Expect From a Coaching Session
During a business coaching session, an experienced coach will guide business owners to define their vision and create actionable steps to bring the business from its current state to your desired future.
A typical session will start with a coach and client discussing the business issues at hand. The coach will identify any negative thought patterns and obstacles standing in the way of your business achieving your goals. The coach will offer objective feedback on effective ways to bring about the change you're after.
Finally, business coaches will offer a series of actionable steps to help improve your business's performance. Sessions can run anywhere from 30 to 90 minutes in length, depending on your objectives and time pressures. Our single-session coaching typically lasts for an hour and can take place in person, online, on the phone or through video conferencing.
What Are the Benefits of a Coaching Session?
Not sure how to fix the issues that are halting your business's success? A coaching session can give you a fresh pair of eyes into the nitty-gritty of your business model. During a session, you'll dig into the details of what's not working and where you want to see your business in the future. We'll help you find actionable resolutions and make a path toward progress. Where you see problems, we see possibilities.
Our hands-on coaching can help your business grow in many different ways, including these valuable benefits:
Identify your organizational and individual strengths
Motivate your company to succeed
Set specific goals with action steps
Discover how to live a balanced life that includes self-development outside of work
Refocus your vision with insight from an objective, outside perspective
Learn how to increase your sales and improve your business model
Think outside the box and harness your creativity
Explore when to take calculated risks
When you invest in business coaching — whether a one-time session or a regular program — you'll have the added benefit of creating a coaching culture in your workplace. As your company's leadership spends time making positive changes and sharpening their vision, this will inevitably spill over and impact the way your company operates as a whole. A development-centered coaching culture can help your team members feel empowered, listened to and satisfied with their jobs.
Who Needs a Business Coaching Session?
Business coaching sessions can be a major asset for any business. No matter the industry you're in or how long you've been in the field, there's always room to grow. No one has ever hit the ceiling of their potential. Sometimes you're just a little too close to the problem to see the best path. Single business coaching sessions are designed to give an outside perspective and help you see the light — whether that involves hiring fresh talent, reworking your budget or starting a new marketing campaign.
The flexibility of single-session business coaching means that anyone can benefit from some concentrated one-on-one time with an expert consultant. You may be hoping to revive a floundering company, expand your local business or launch a new one entirely. Business coaching can help you find direction and narrow down concrete next steps. As a business owner, you'll benefit from a single session if you:
Are planning to build a startup and need help defining your mission, creating business strategies and hiring personnel.
Have hit a plateau in your business's growth and need guidance on how to break into the next level.
Struggle to find a specific mission.
Are overwhelmed trying to find a healthy work-life balance.
Don't know where to turn to have an honest discussion about the challenges of small business ownership.
How We've Helped Business Owners
Since launching our small business consulting agency back in 2003, we've helped all kinds of organizations resolve complicated situations, find creative inspiration and improve sales and operations. Small businesses and family-owned partnerships are our specialties. We've helped clients replace problems with success stories and reinvigorate a passion for their craft. With individual business coaching, clients can gain expert insight into:
Making necessary hires.
Creating sustainable work-life balances.
Resolving friction within business partnerships.
Improving sales and business profits.
Creating and sticking to budgets.
Finding a new direction and redefining company culture.
Enhancing management strategies and skills.
Check out our company testimonials to learn more about what clients love about Coachfirm.
Up Your Game and Schedule Your Session Today